We have had some simple and delicious meals while walking the Camino. Back home sometimes we long for a Camino-simple supper. My Camino-inspired soup is a hit with everyone in cold weather, and features some surprise ingredients that might help you bounce back from a hard day. Kind of like when you have walked for 4-5 hours every day on the Camino. The golden color comes form turmeric, known for its anti-inflammatory properties. Butternut squash is a delicious addition, too.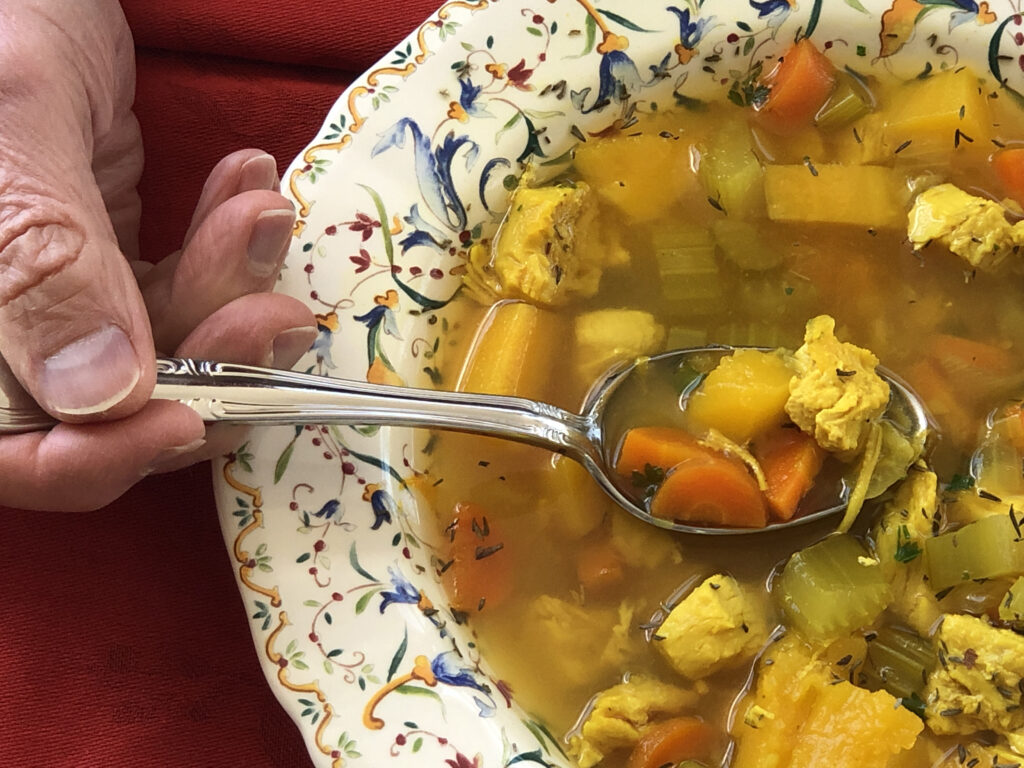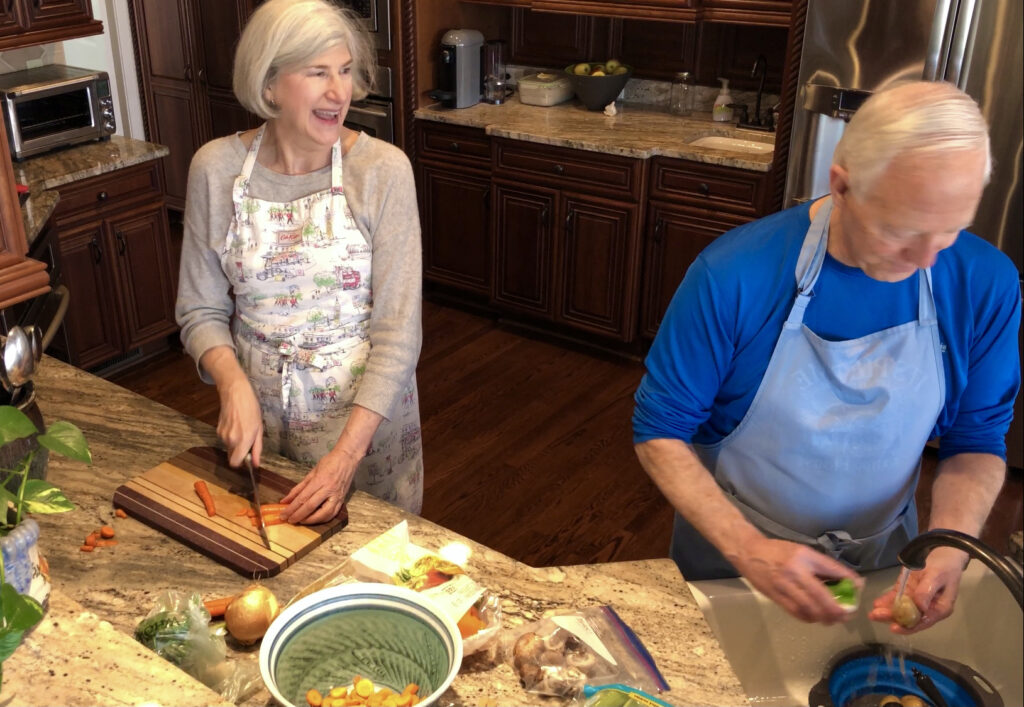 A Simple Camino Soup for Cold Weather
When the weather turns cooler we like to start having soups and stews that make a whole meal in one bowl. Give me a one pot meal any day for its simplicity and ease of clean up. We also like to double a recipe to cook once and have several meals from one prep and cook. To be honest, often the flavors improve as they have more time to mingle.
Camino-Inspired Soup
Maybe you have heard of the Spanish soup that inspired this one pot recipe. Caldo Gallego (Galician soup) is on almost every restaurant menu in Galicia (the region of Spain where Santiago is located). Generally it is a pork-based bean and turnip greens soup that will fill you up, but there are as many variations as there are cooks who prepare it. It seems to be a "go-to" cozy soup for Spanish families. Therefore I feel at liberty to make variations of my Camino Chicken Vegetable Soup, which is one of our favorites in cold weather. I follow some guidelines, but rarely measure ingredients precisely. Every pot of my soup differs slightly, as it depends on what vegetables are freshest at the store, what herbs I have on hand, and how much I am making. But every pot is delicious! Add some bread and you have a complete supper.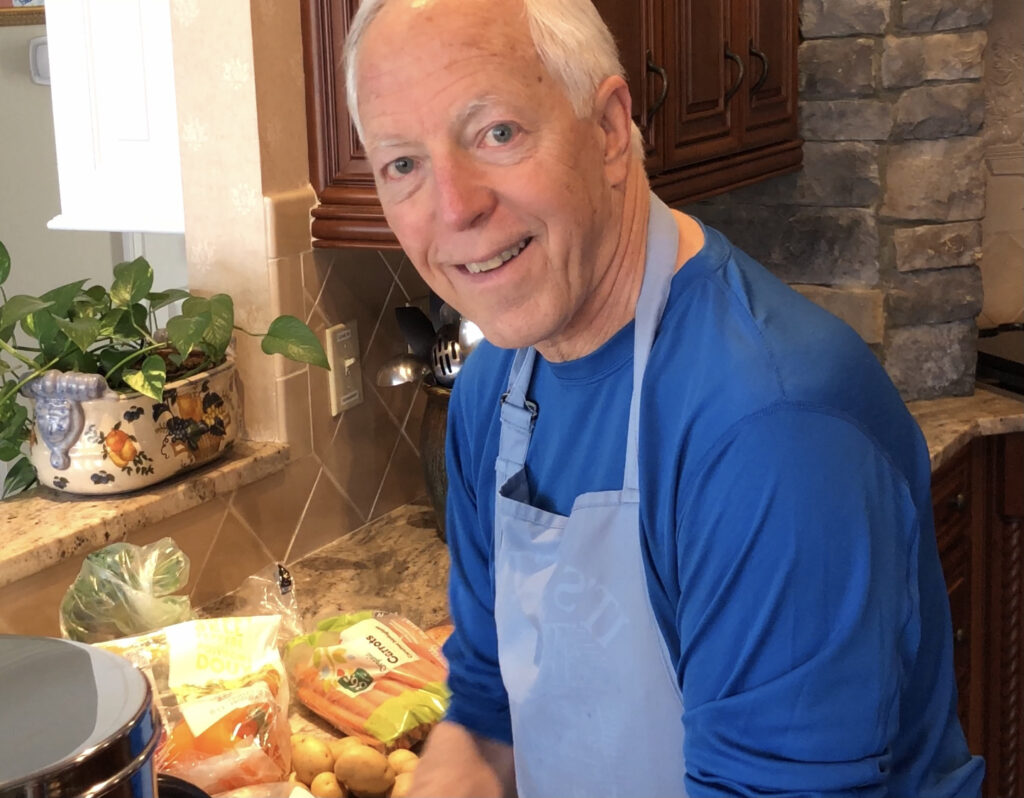 Camino Vegetable Gardens Inspire
We love seeing the many family vegetable gardens along the Camino as we walk. People who are still living in rural areas of Spain, as well as some city community gardens, grow delicious vegetables. You get the idea that if you went out and picked a basket full of anything from one of those gardens, it would make a delicious soup. Back home we grow favorite herbs in our yard, and buy ingredients from farm stands and local sources whenever we can. However, we are thankful for good grocery stores that serve us, too. Camino Chicken Vegetable Soup uses easy to find ingredients, and people love it.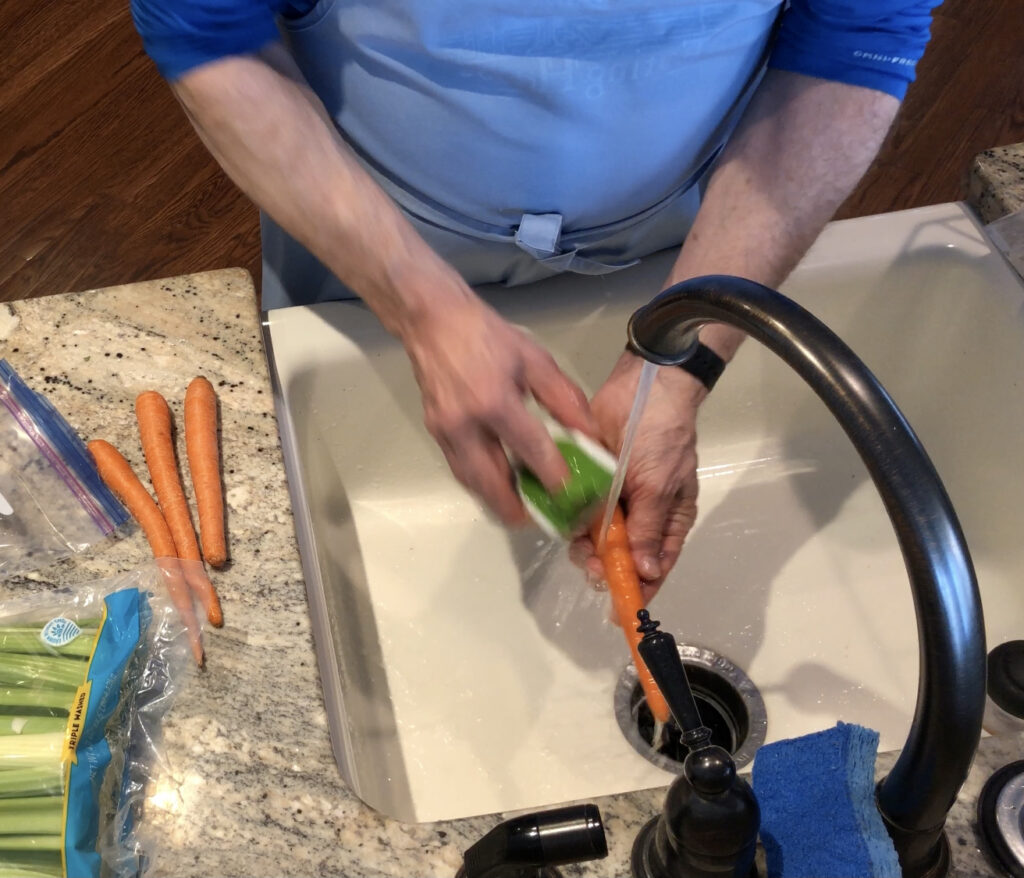 Camino Lesson Back Home: Use What You Have
When you're on the Camino some albergues (hostels) have a stove and a few cast off pots and utensils. If you decide to cook something, you learn to use what you have and make it work. Back home, chances are you have a better outfitted kitchen for preparing food. Use what you have to make the meal work for you. For instance, if you have an InstaPot or other pressure cooker, use that to cook this simple chicken vegetable soup, but if you have a big soup pot, or a slow cooker, use that. An programmable pressure cooker can cut the cooking time significantly, and turn itself off when finished. The slow cooker can turn itself off when it finishes its cycle, too. Choose the one that works for you from what you have to use. For more ideas about living a Camino life at home, go to www.CaminoProvisions.com/back-home.
Simple Camino Suppers that Satisfy
Camino Suppers that Nourish Body and Soul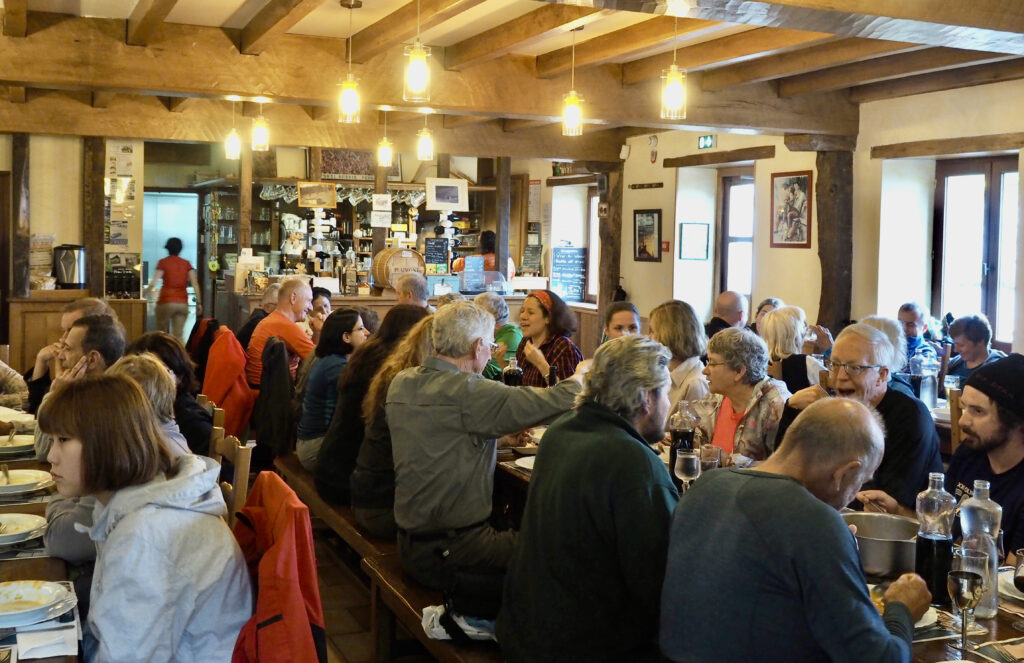 Who wouldn't want to be sharing a meal like this simple chicken vegetable soup at a lively albergue with other pilgrims right now? If you have walked the Camino, no doubt you have experienced the fun and fellowship of this type of communal meal. Tired pilgrims from many nations eager for something to eat can be lots of fun around the table. One French pilgrim who speaks only French says something to the Italian pilgrim next to her, who speaks Italian plus French and English. Then the Italian pilgrim translates for the English speakers, and so it goes back and forth, enjoying nourishing food and sharing the experiences of the day.
This Simple Chicken Vegetable Soup Means Easy Clean Up
Keeping a meal simple, like on the Camino, sets the stage for an easy clean up, too. Back home we have a standing agreement among family and friends that if you cooked the meal, then everyone else helps clean up. It distributes the work pretty well, and has led the usual cleaning crew to develop a grading system for recipes: one score to rate the taste of the food, and another score for the ease of clean up. Most of our recipes have this rating pencilled in at the top of the card.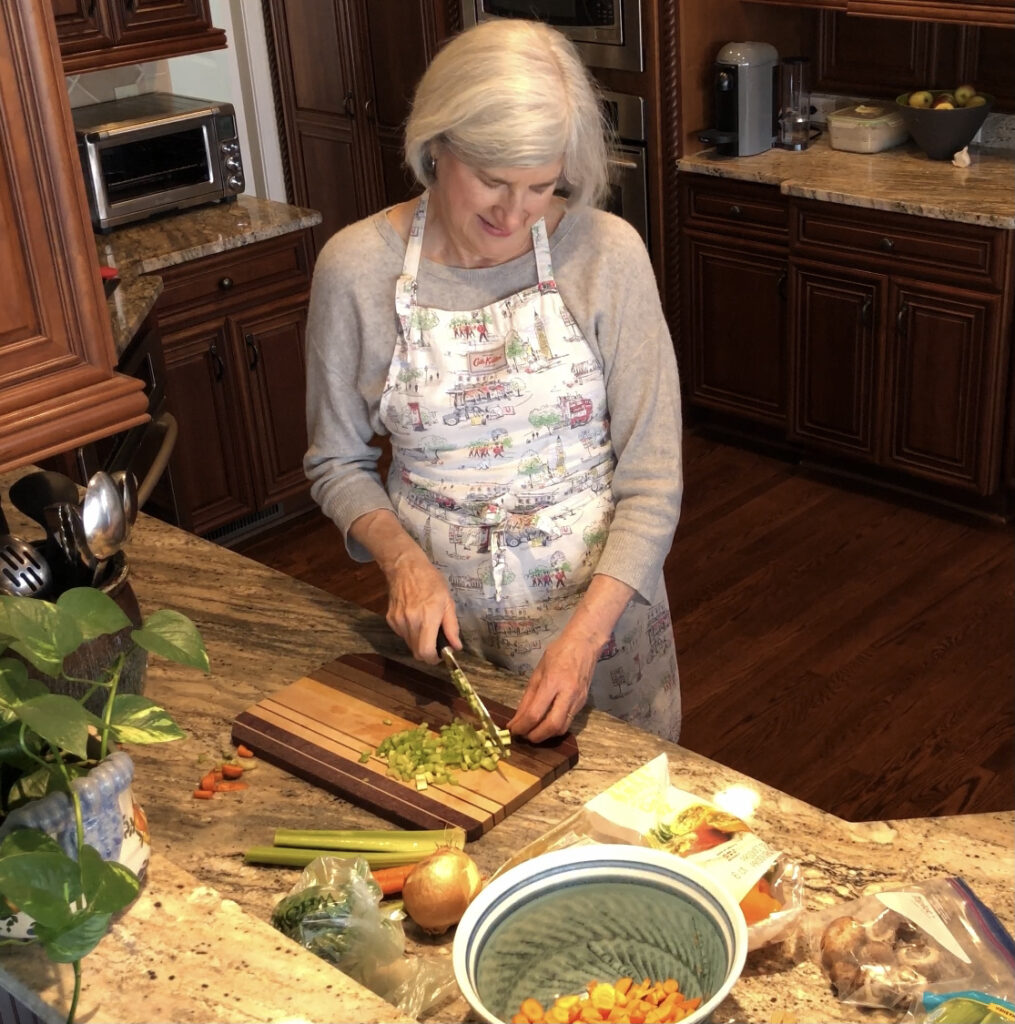 On the Camino, many albergues that offer a communal meal also assign prepping and cooking jobs to willing pilgrims. Everyone washes their own dishes. So the way our family divides the work back home is the same system used along the Way.
Gut-Healing Chicken Vegetable Soup Is Good for Recovery
After walking on the Camino for hours day after day, our bodies need food that will aid in our recovery from the physical stress we are going through. Back home we have stress, too, and I have added a couple of ingredients to my Camino Chicken Vegetable Soup to help. In addition to the basic ingredients you might expect, I add something that can kick things up a notch for your recovery: turmeric for its anti-inflammatory properties and grass-fed unflavored beef gelatin for its gut healing properties.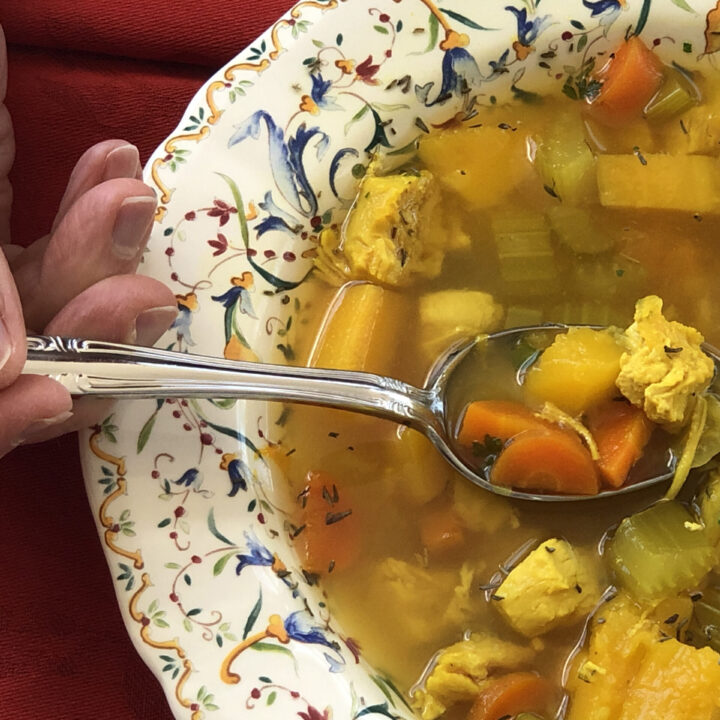 Camino Chicken Vegetable Soup
Additional Time:
10 minutes
Delicious chicken vegetable soup with gut healthy ingredients. Dairy free, paleo, gluten free, nut free.
Ingredients
2-2.5 pounds boneless chicken breasts
6-8 cups chicken broth or bone broth
1 medium onion, chopped
3-4 cloves of garlic, minced
4 teaspoons sea salt, plus more as desired
1 teaspoon freshly ground black pepper, plus more as desired
6 celery stalks, diced
6 carrots, sliced in half moons
1 small butternut squash, peeled, cut into bite-sized cubes
3 tablespoons grass-fed unflavored beef gelatin
3-4 tablespoons of fresh parsley
3 teaspoons dried oregano
1 teaspoon dried thyme
zest of one lemon, finely minced
juice of one lemon
Instructions
Begin heating broth in the prssure cooker on the sauté setting while you prep the other ingredients. Add the chicken, onion, garlic, salt, and pepper. Turn off the sauté function, secure the lid, and set it for 10 minutes on the Soup setting for thawed chicken. (Set it for 20 minutes if the chicken is frozen.)
When the time is up, do a quick release to bring the pressure to normal. Remove the chicken and cut into bite-sized pieces before returning to the pot. Ladel a cup of the hot broth into a small bowl and add the gelatin. Stir well to dissolve, then add it to the soup. Add lemon juice and zest, celery, carrots, butternut, thyme, oregano, half the parsley, and the turmeric. Add more broth if desired. Secure the lid and cook on the Soup setting for 2 minutes. Do a quick release to bring the pressure down.
Taste, and adjust salt and pepper as desired. Ladle into bowls, garnish with the remaining parsley, and serve immediately.
Warm artisan sourdough bread goes well with this soup.
Notes
If you don't have a pressure cooker, you could make this in a slow cooker, or in a soup pot on the stove top. Adjust the cooking times accordingly.