People walking the Camino rely on their footwear more than any other gear. So, what is the best Camino footwear? Boots, hiking shoes, hiking sandals?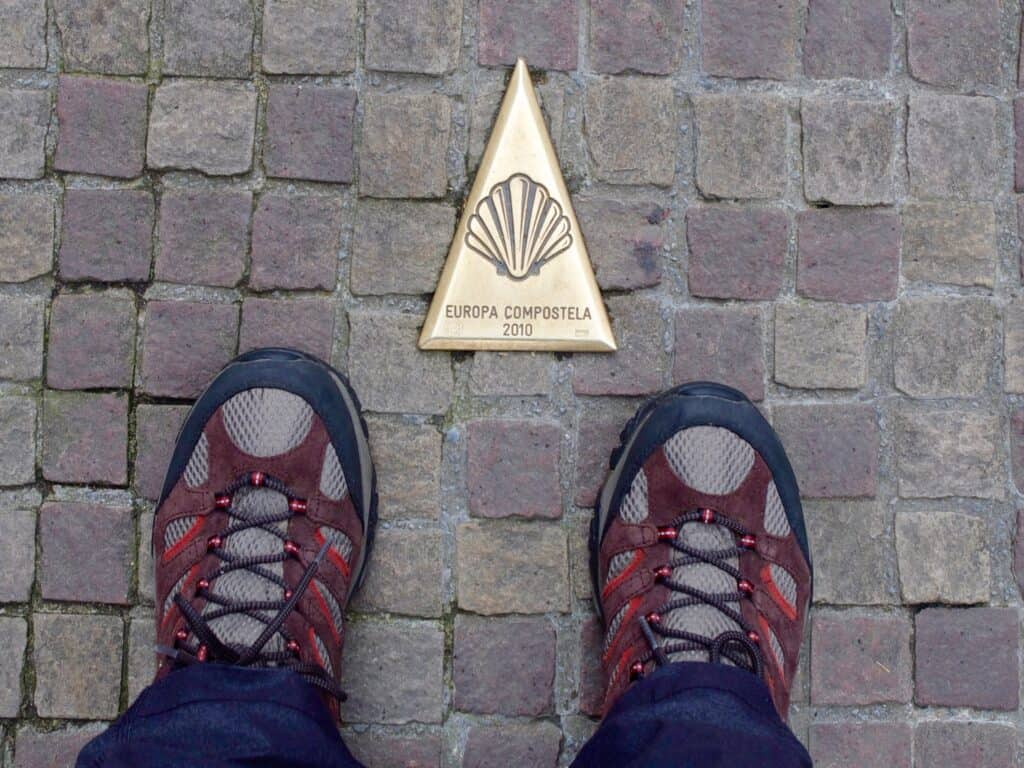 Hiking Boots? Not the Best Footwear for Us
by Hunter Van Wagenen
On my first Camino walk in 2007 with my parents we all chose over- the-ankle hiking boots. However, these were very heavy and supportive, but not very flexible. And they get hot, especially in the summer. We still see some people using them on the Camino, but not as many in recent years as on our first few Camino walks.
Hiking Sandals? Not the Best for Us Either
On another walk I wore Chaco hiking sandals. While I love wearing these with casual wear back home, I didn't like them for putting in the long distances on the Camino. Nothing prevented the trail grit and sweat from getting between my skin and the sandal straps. I got some of the biggest, gnarliest blisters I have ever seen.
Features to shop for in Your Camino Footwear
The Best Camino Footwear Is Both Flexible and Supportive
The Merrell Moab is flexible enough to allow your foot to bend to take your natural stride and foot plant. In addition, it is supportive for the average day's distance on the mixed terrain of the Camino.
Because Camino terrain ranges from paved asphalt roads to dirt paths, to ancient rocky Roman roads you need flexibility and support. A lightweight hiker can be very flexible, but will not protect you on the rougher paths. The Moab's amount of support is good for about 12-15 miles per day.
Upgrade to More Support with Superfeet
Waterproof, or Not?
My parents prefer the Merrell Moab Goretex (waterproof version), but I like the water resistant ones that have venting for air circulation in the hot summer weather. The water resistant ones may dry out a bit more quickly after a rain, but the waterproof ones (worn in combination with rain gaiters) can keep your feet from a soaking. Whichever way you decide, a good practice is to change your socks throughout the day if you encounter rain, or your feet are perspiring a lot. Dry feet help prevent blisters, and that is a good thing.
The Best Camino Footwear Has a Great Fit
One of my parents has long, narrow feet, and the other has wide feet, which resulted in my feet being 13+ average width in American sizing. Merrell Moabs are available in the most extensive range of sizes we have found in hiking shoes, which means most people can find a good fit. Once I broke them in, I rarely even noticed my Merrells while I wore them on the Camino. In other words, they fit just right.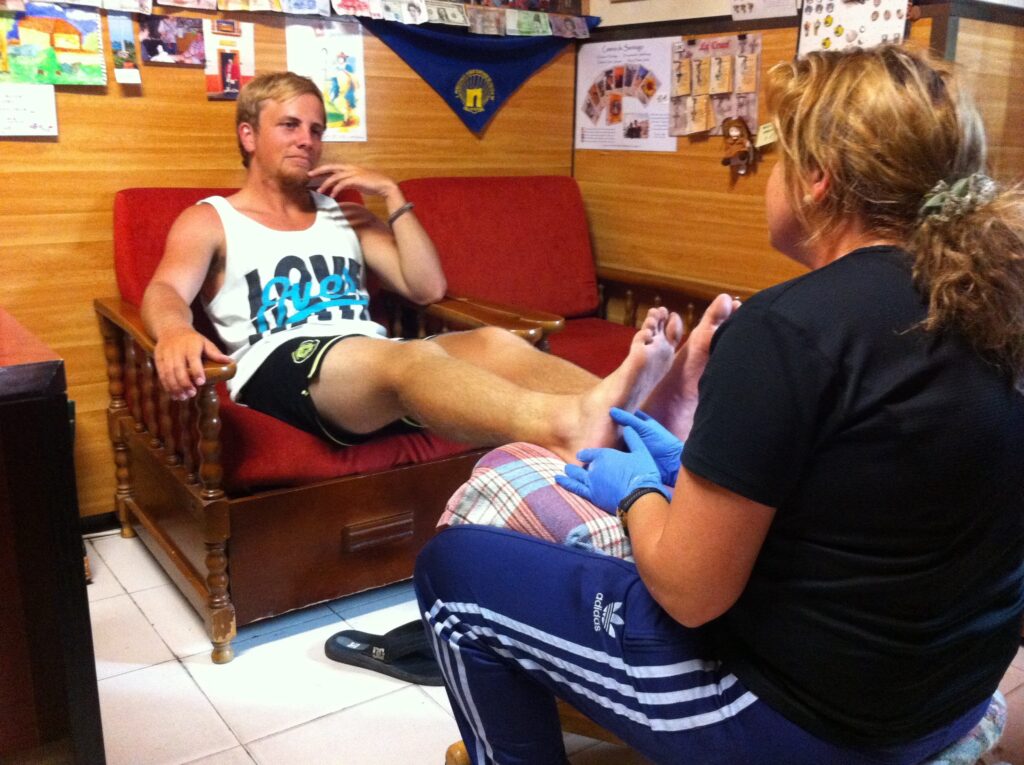 The Best Camino Foot Care Practices
The Merrell laces are easy to adjust and have a good grip, though I recommend tying a double bow to help it stay securely tight. The lacing configuration accommodates a variety of lacing styles to get the perfect fit. Whether you have a wide forefoot, a narrow heel, a low or high volume foot size, you will find a size and lacing pattern to get the best fit on the best Camino footwear.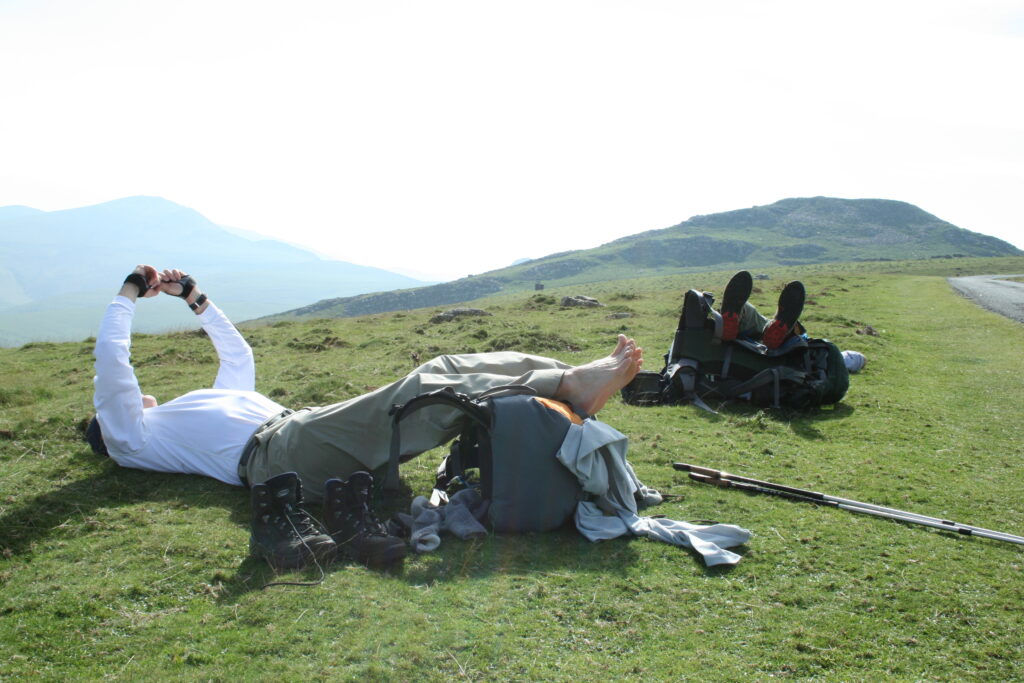 Take good care of your feet on the Camino by untying and re-tying a few times during your day of walking. This allows you to re-tie your lacing to adjust to the change in size that occurs as your foot heats and expands as you walk. In addition, an occasional break during your walk where you take off your shoes and change into dry socks will help prevent blisters and fatigue. Also, relaxing, (lie down if you can), and propping your feet on your pack is a good practice with the best Camino footwear.
The Best Camino Footwear Works Back Home, too
On or off the Camino Merrell Moabs are our favorite year round hiking and walking shoes. When we return home from the Camino we wear them all the time for outdoor activities that call for a rugged, closed toe shoe. In other words, we walk the dog in them, go on exercise walks, and wear them anytime we are gardening or working in the yard. We even wear them inside when we are going to be on our feet a lot in the kitchen, or doing inside chores requiring us to be on our feet for a long time, or need sure footing. Why wouldn't we? After all, if they are comfortable enough for long days on the Camino, they will serve you well everywhere.
With their amazing range of sizing and features it is no surprise that they are one of the most often seen shoes on the Camino and back home.
What Is Your Favorite Camino Footwear?
We like Merrell Moabs, but they may not be available where you live. Or, personal preferences may be such that you may have found another favorite. Please do list it in the comments, and tell us why you like them. You could help others who are beginning to shop for their Camino gear and prepare for their Camino.
Read More Like This
As Amazon associates we might receive a small commission from qualifying purchases at no extra cost to you.