We love our Camino walking poles. Well, maybe we should say it this way, "We would never walk the Camino without our walking poles." Before setting out on our first Camino back in 2007, we didn't know anything about walking and trekking poles. Now, having logged thousands of miles with our Leki Nordic Walking Poles, we can't imagine approaching any long walk without them. In other words, we use them on the Camino every time we walk.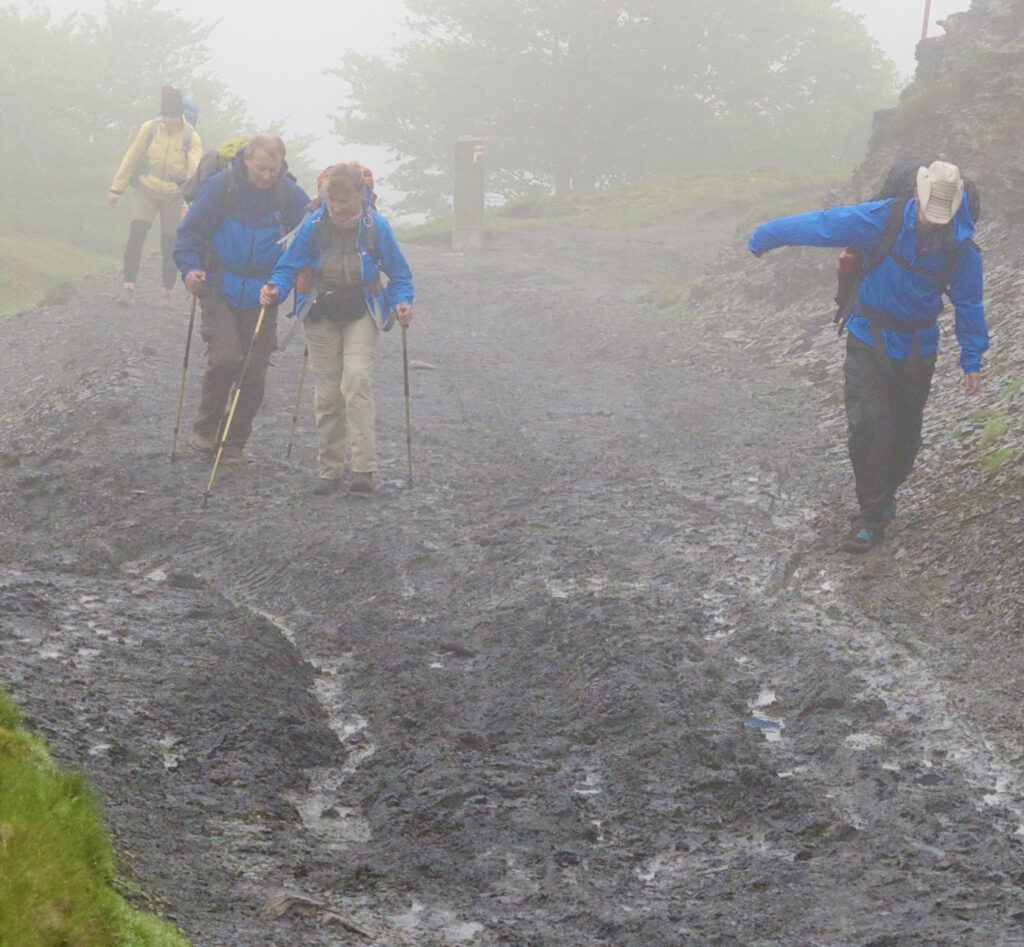 What You Should Know About Walking Poles
Gear Geek to the Rescue
In the Fall of 2007 Wick and I set out with our son Hunter to walk across Spain on the Camino. We were not aware of any resources to help us prepare. We couldn't even find the Camino on a map! We had no clue about gear, pace, lodging, etc. But we did have a good friend at our church who managed an outfitter's store in our city. He really knows his stuff when it comes to gear for all sorts of outdoor adventures. In other words, he is a total gear geek, and we are grateful for his help through the years.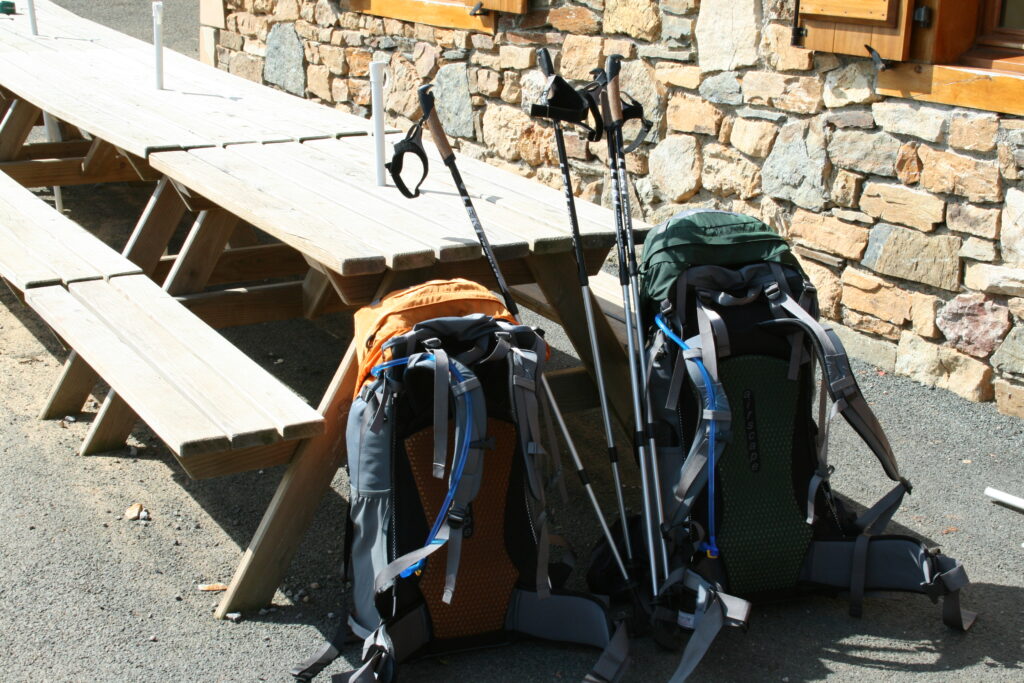 The Benefits of Walking Poles
We are still thankful to Jody for all the expert advice he gave us, with scientific explanations and experiential stories thrown in for free. Jody was the one who introduced us to Leki Nordic Walking Poles. Until then we had never heard of them. He explained it like this. The physics of using these Nordic Walking Poles transfers some of the workload of walking to your upper body. Therefore it's easier on your hips and knees in particular.
Certainly, we have found this to be absolutely true. That's also why walking anywhere and anytime with these poles gives you a superior "whole body" workout to walking without them. You engage your upper body as well as your legs. Based on what we could find out about the physical terrain we would encounter, Jody suggested we try out the Nordic walking poles rather than the trekking style poles. (If you already own trekking style poles, do not let us discourage you. We advise using them rather than going without any poles.)
Creative Ways to Use Your Walking Poles
In addition, if you were to encounter an aggressive farm dog on the path, walking poles are handy extensions for your arms to keep a safe distance as you walk on by. They can also work like a rod where you drape wet clothes to dry.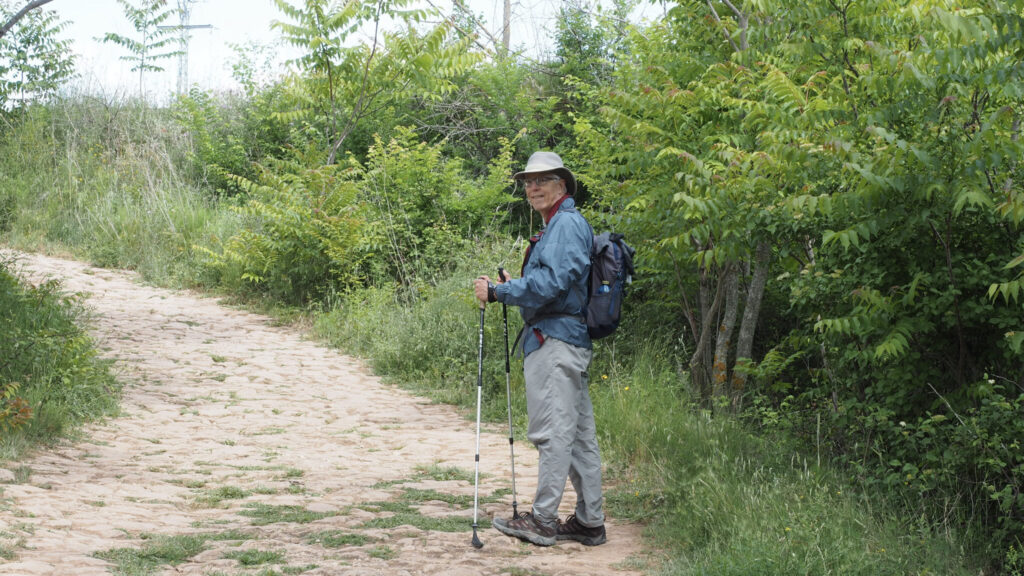 Leki Nordic Walking Poles, Our Top Choice
Now, with thousands of miles walked with our Nordic walking poles, we can't imagine approaching any long walk without them, especially the Camino. Our favorite poles for the Camino are the Leki Traveler Carbon Nordic Walking Poles, with the Leki Traveler Aluminum Nordic Walking Poles coming in a close second. For those who are still deciding or shopping, here is why we recommend them so highly over other choices.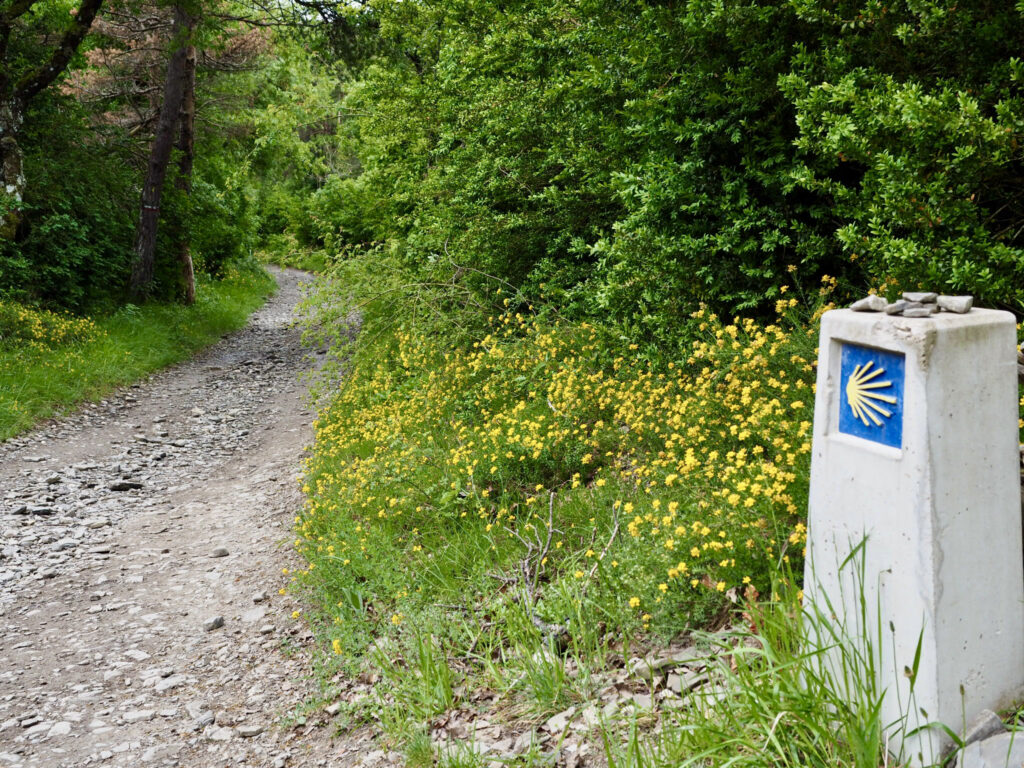 Advantages of Leki Nordic Walking Poles
While terrain on the most popular Camino routes varies from flat asphalt roadways to steep, rocky Roman roads, most of your miles will be walked on groomed, or even paved surfaces. Nordic walking poles give you an advantage here over trekking poles. The reason has to do with the hand strap. When you velcro the adjustable hand strap properly, your natural arm swing does some of the work for you. To clarify, the work of bringing the pole into position for your next step is done without having to grip the handle tight. Less work for your hands is involved as your natural arm swing brings the pole into position. Without having to grip the pole tightly as with a trekking pole, your hand is less tired with the Leki Nordic Walking poles.
Using the Leki Quick Release for Safety on Difficult Terrain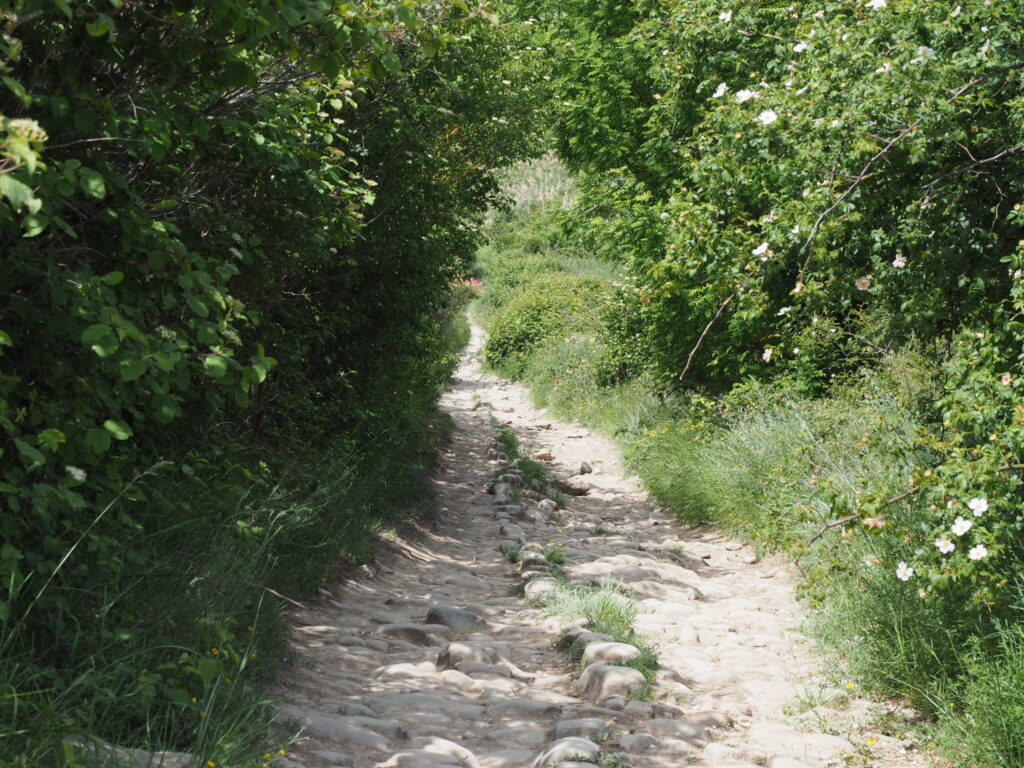 Nordic walking poles also perform well on uneven surfaces, steep ascents and descents, and muddy sections, when you will need to grip the handle to help pull yourself along or steady your foot plant. When you encounter any of these difficult surfaces, seasoned hikers and walkers recommend disconnecting the hand strap from the pole.
With a quick release of the "Trigger Shark" connector, you take away the danger of becoming tangled or tripped up if you should stumble or fall. Do a quick release, then grip the handles in a natural way as a safety measure. You can quickly and easily reconnect the hand strap to the walking pole with a click of the strap loop, and you're off again. Let the Leki Traveller pole's adjustable hand straps and your natural arm swing work for you.
Adjustable for Your Height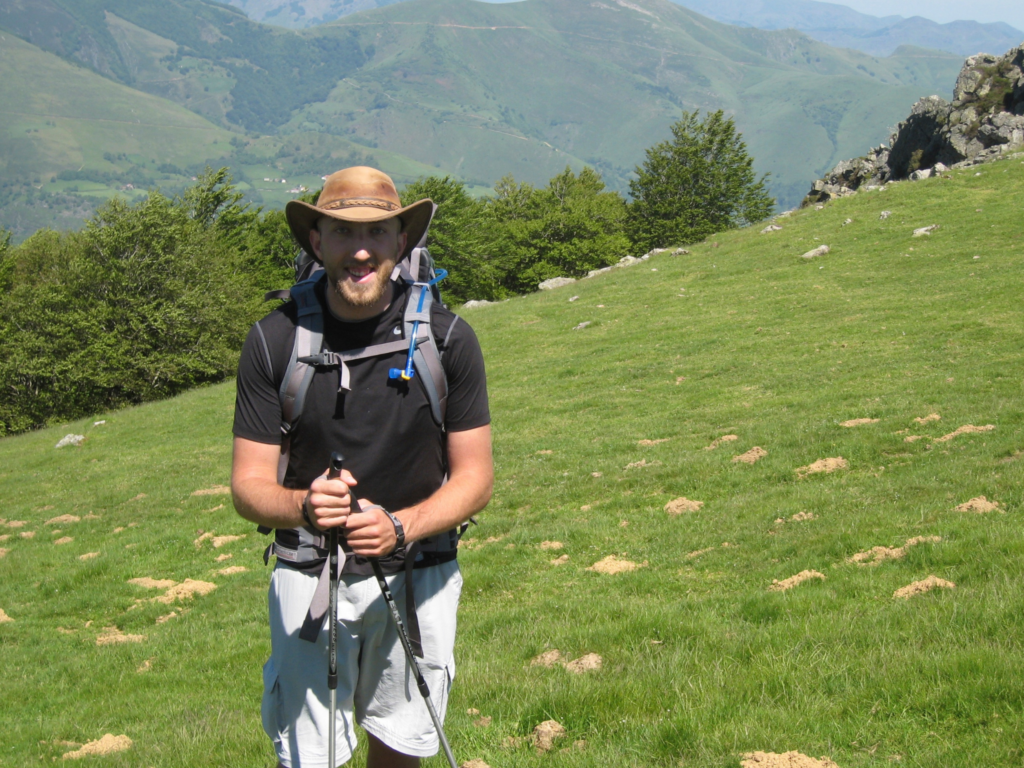 Another feature we like is that the Leki Traveler Nordic Walking Poles can be adjusted for your height. They telescope down to their shortest length for easy transport to the Camino and back home. But they also extend to accommodate even the tallest person we know. A measurement guide along each shaft make it easy to get them set right for you. The "speed lock" system makes adjusting your poles to the right length super easy and stable. When collapsed to their shortest length the Traveller Nordic Walking Poles will fit in most backpacks for your pre-and- post-Camino traveling.
Removable Rubber Fitness Tips Add Safety and Comfort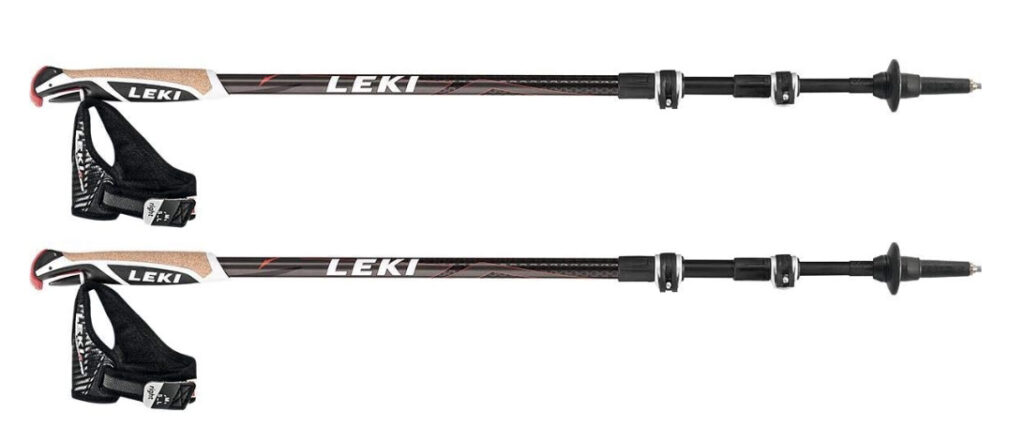 Leki Traveler Nordic Walking Poles come with attached carbide tips, which we leave in place for the duration of our Camino. The carbide tip offers sure footing on uneven and muddy terrain. Look at the photo above to see the carbide tips. They give great traction on dirt trails, and when you are walking cross country on turf.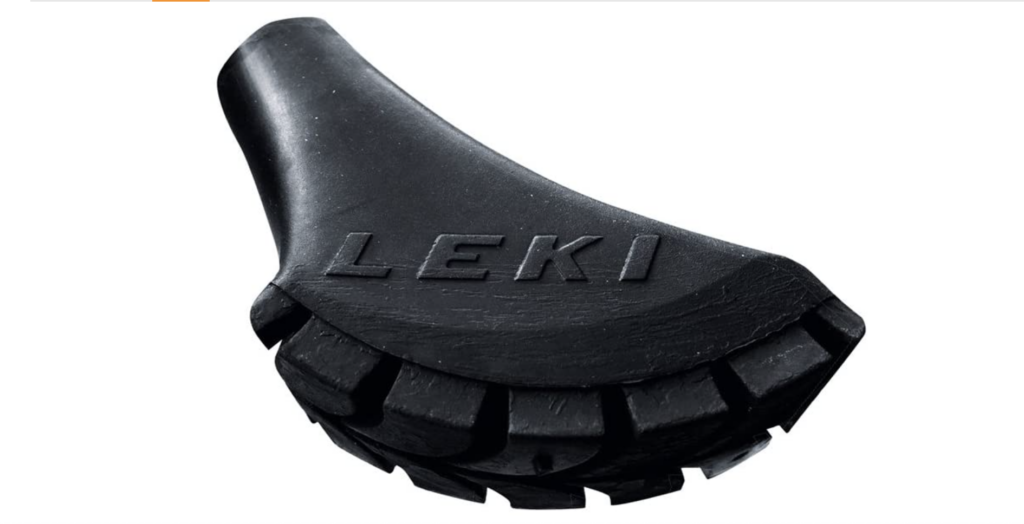 Your Leki Traveller poles also come with rubber feet. You can pop on the rubber feet for paved or slick surfaces. We like to have a fresh pair of the Leki brand Rubber Fitness Walking Tips when we begin a Camino walk. They will usually last the whole way to Santiago. Leki sells replacement rubber feet that may seem expensive. However, after testing a few of the cheap imitators we recommend the Leki brand replacements. They last much longer than the cheaper imitations, and the cost ends up about the same.
The rubber feet are a small but important addition to your poles, because they offer better traction on slick, or wet surfaces. You may not appreciate this yet, but you and others will be grateful that they muffle the sound of the carbide tips on hard surfaces. You won't have to listen to the "klik-klak, klik-klak" sound the carbide tips make with every step.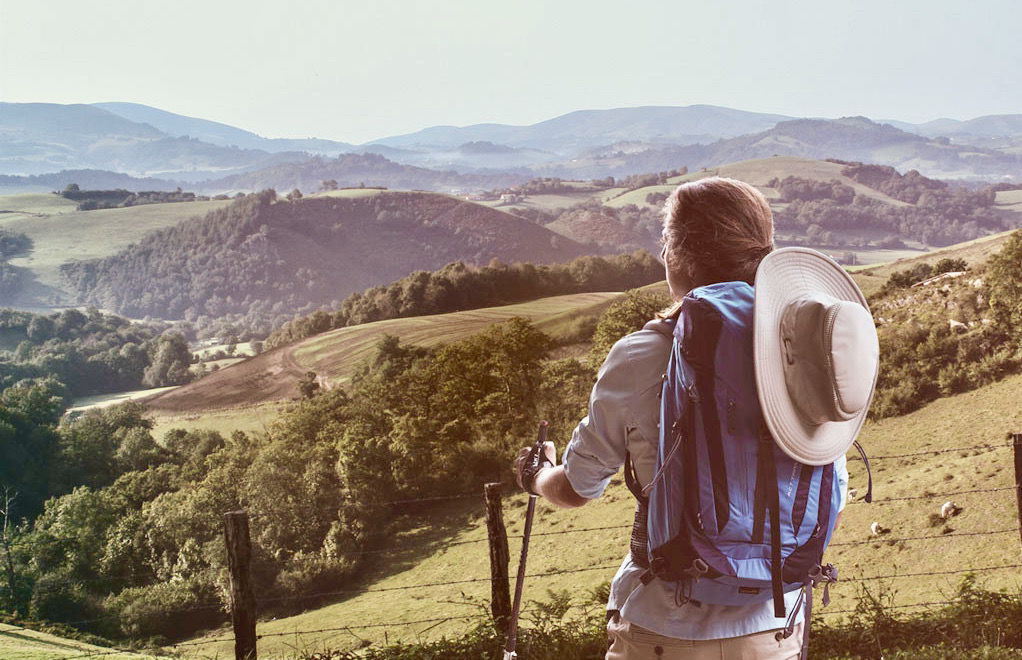 Our Favorite Camino Walking Poles
The Leki Traveller Carbon Nordic Walking Poles are our favorites for the Camino de Santiago. The pair of carbon poles weigh only 14.6oz/390g, and collapse down to 24.5in/62cm. The Leki Traveller Aluminum Nordic Walking Poles have all the features like the carbon poles. The aluminum poles are a bit heavier at 16.8oz/450g, and collapse to 26in/66cm. However, the aluminum poles are about $50 cheaper.
Both of these Leki models come with a worldwide lifetime guarantee. The company keeps warranty parts available for up to 10 years after your poles are manufactured.
Traveling with Your Poles on a Plane
The adjustable length can collapse to travel inside most backpacks, but on the last couple of trips, we had to check our poles as baggage on the return flights. If your country of departure for a flight requires you to check your poles as baggage, we can pass along a tip for this. Our current solution is to use a medium size priority mail postal tube purchased from an office supply store or the post office. Collapse the poles to their smallest packable size. Secure them to one another with plastic wrap or tape. Mark the poles inside as well as the outside of the tube with your contact information and flight information.
Read More Like This
As Amazon affiliates we might earn a small commission on purchases at no extra cost to you.