Enjoy Santiago de Compostela. In addition to being the destination city of the Camino pilgrimage, there is a lot to see and do. The sacred beauty of the Cathedral of St. James is the focal point of the city. And there is more. Santiago has many lovely places to see, and interesting activities to do.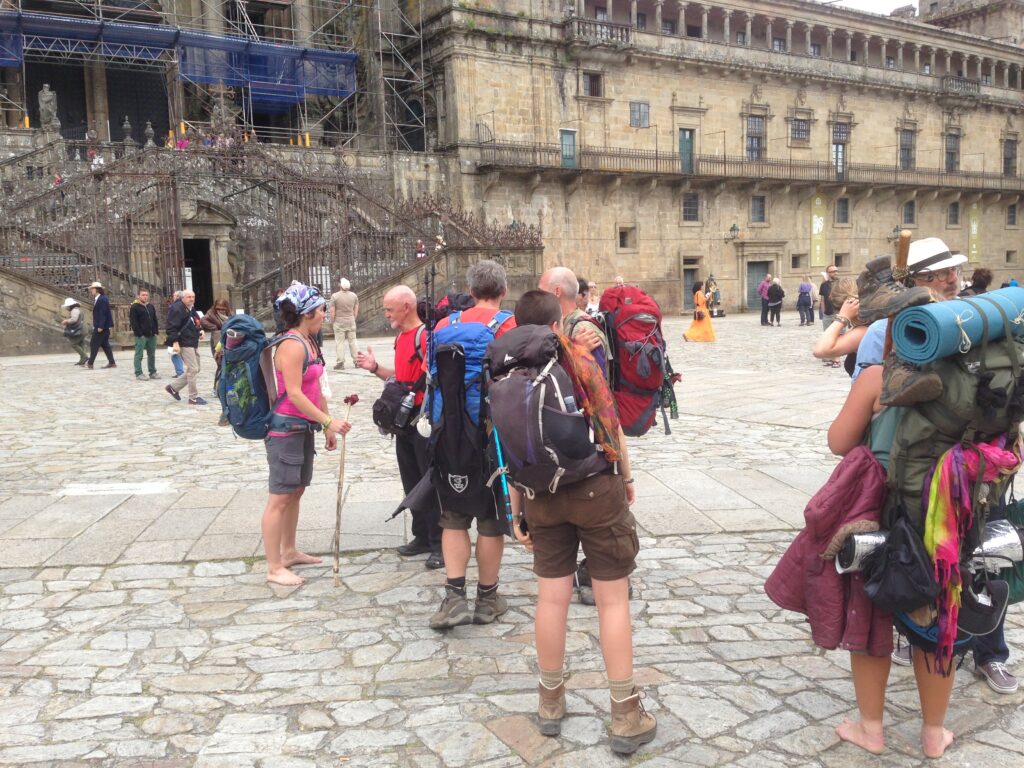 You wind through city streets following the Camino arrows and signage into Santiago de Compostela. As you get closer to the Cathedral you may hear the music of Galician bagpipes, and the bustle of other pilgrims and tourists getting louder. You approach the Cathedral from the side, past souvenir shops, cafes, and other medieval buildings. At last look ahead through an archway to see the huge open space of the Plaza Obradoiro, the square where pilgrims finish their physical journey. Turn to your left and see the magnificent Cathedral face. Take your time to stay in this moment and consider your thoughts and emotions. Find the official seal of the Camino destination point embedded in the center of the plaza pavement. You made it. You did it.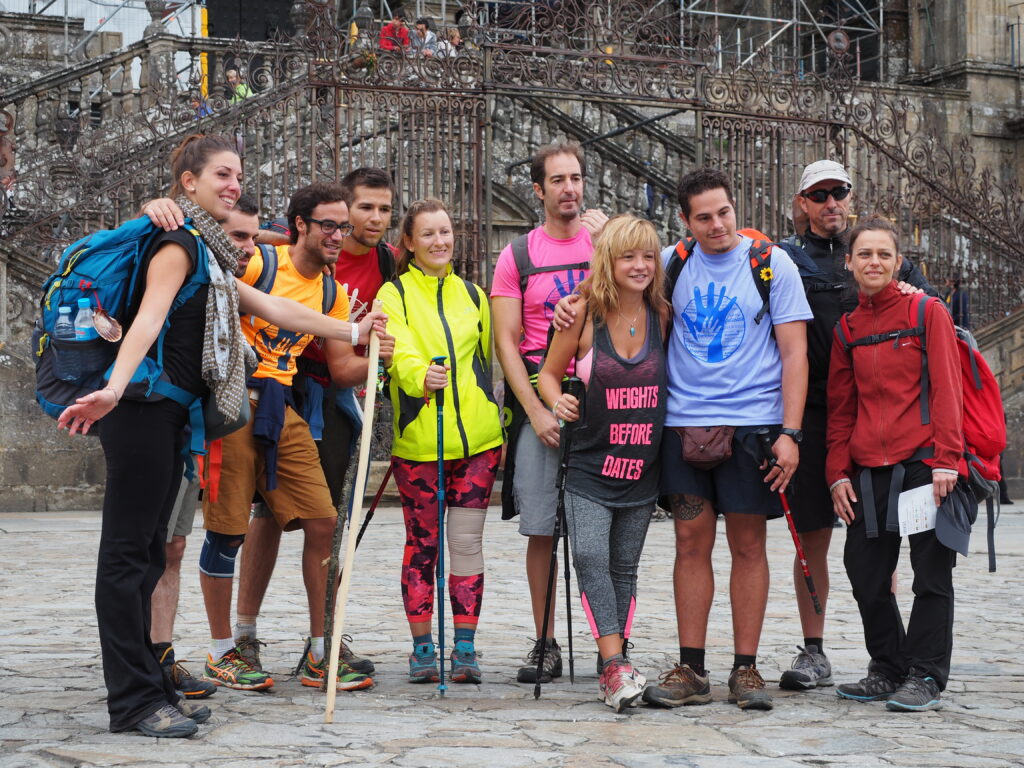 Call your family, take your photos, pay your respects to St. James, attend a mass. Check in at the Pilgrim's Office to register completion of your pilgrimage. If you qualify to receive a compostela, you may purchase it to take home with you. As you walk around Santiago Old Town you will see friends from your walk. Meet up, have a drink or a meal, and celebrate your arrival. What's next?
Enjoy Santiago: Favorite Places and Activities
Pilgrim House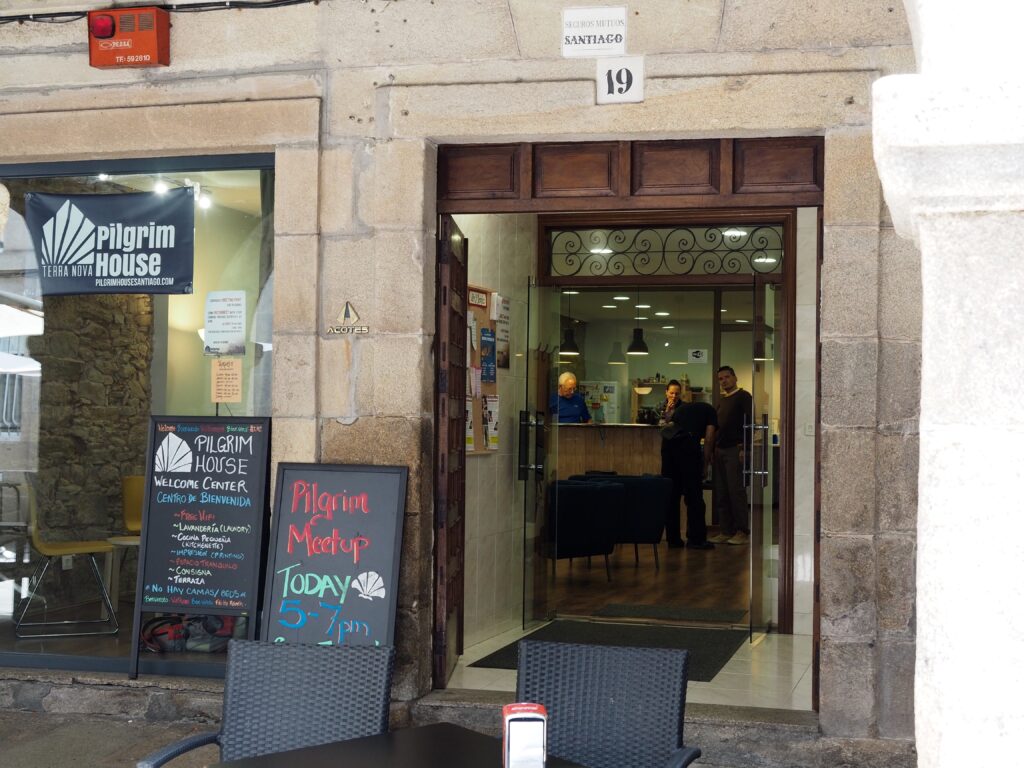 Visit our good friends at Pilgrim House at Rua Nova, 19, just a 3 minute walk from the Cathedral. A resident American team and their helpers volunteer here, offering services and advice to pilgrims. They are a non-profit group who host a space much like a family room back home. Relax, use free wifi. Check your heavy backpack so you can walk around Santiago without it. You are not allowed in the Cathedral with your pack, so you might want to go to Pilgrim House to check it first thing. Get your laundry done and your boarding passes printed by the volunteers, while you sip a cup of tea for minimal donations. The good folks at Pilgrim House live year round with their families in Santiago and are a treasure trove of help and trustworthy advice. Their website is full of ideas for where to stay and eat in Santiago.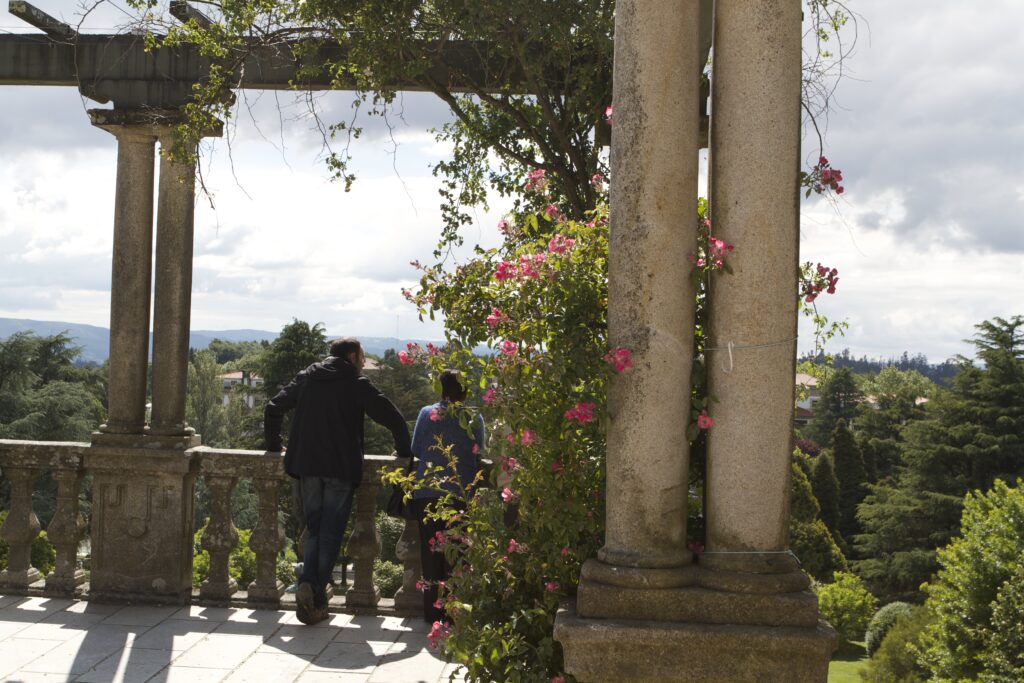 Favorite Places to Enjoy Santiago
Favorite Small Hotel near Old Town Santiago — Hotel Avenida, just 450m from the Cathedral; nice clean rooms, free wifi, breakfast included, friendly staff, economical. Reserve rooms through booking.com.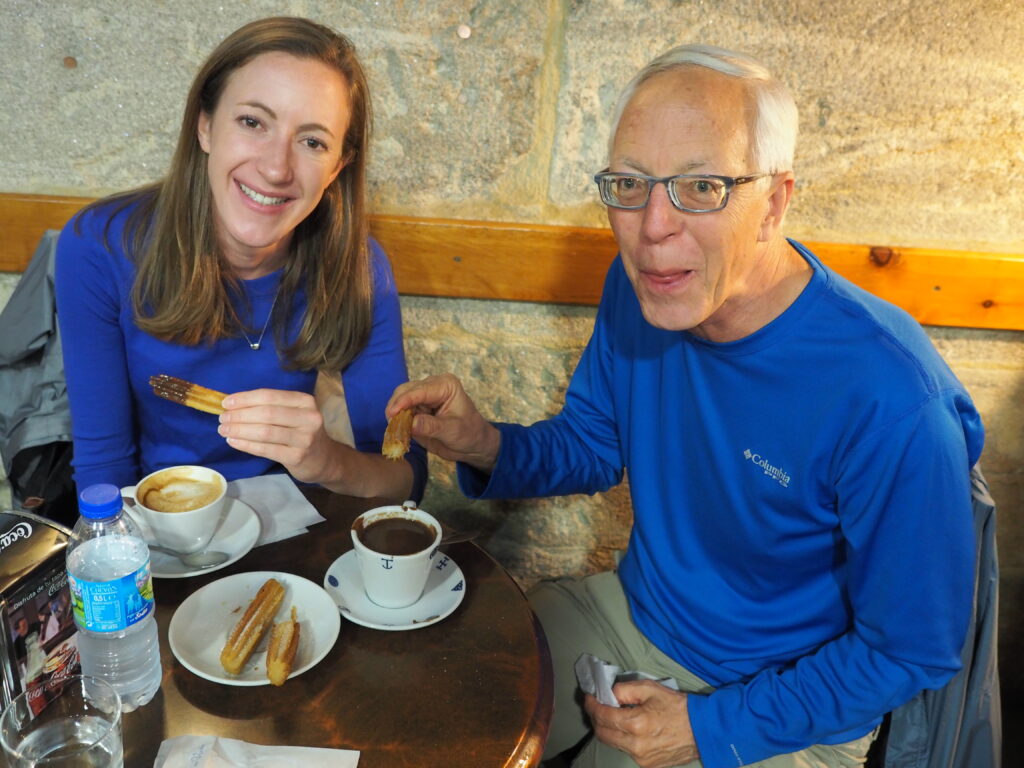 Favorite Chocolate con Churros — Cafe Bar Metate, on Travesa de San Paio de Antealtares; chocolate lovers, do not miss this experience. Enjoy Santiago with this specialty: thick drinking chocolate and deep fried sweet pastries, kind of like a doughnut. Dunk the churros into the thick chocolatey goodness and eat. Our team members have an ongoing private survey of Chocolate con churros on the Camino, and Café Metate remains our favorite. You might be able to share one portion…but maybe not!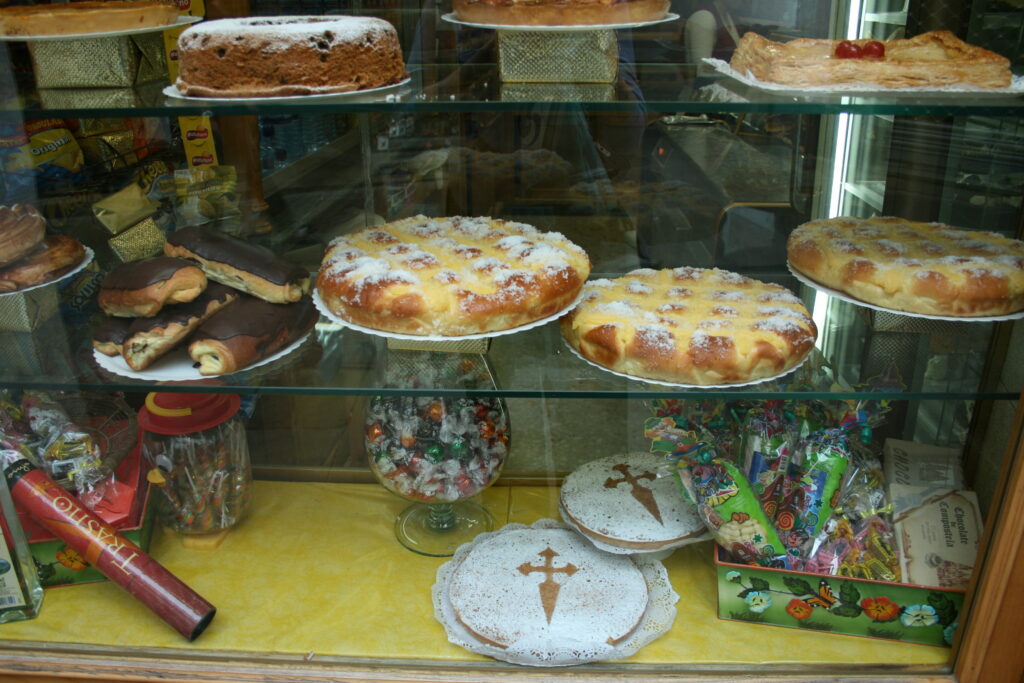 Favorite Eateries to Enjoy Santiago
Favorite Authentic Gallego Restaurant — O' Dezaseis, on Rua San Pedro; Firstly, you probably walked by this little gem as you came into the Old Town on the Camino, but you might have missed seeing it. They serve authentic dishes from Galicia, in a nice, historic room. Though the food is not fancy (certainly you are welcome in your walking clothes), it is really good. Consequently, each time we have eaten here, there are always more locals than pilgrims. However, prices are a bit higher than other Camino restaurants you might have encountered. Therefore you may choose this for a celebratory meal. We met a crew from Oprah's network eating there two nights on one of our trips. In summary, this is a place we go more than once each trip when we can budget for it.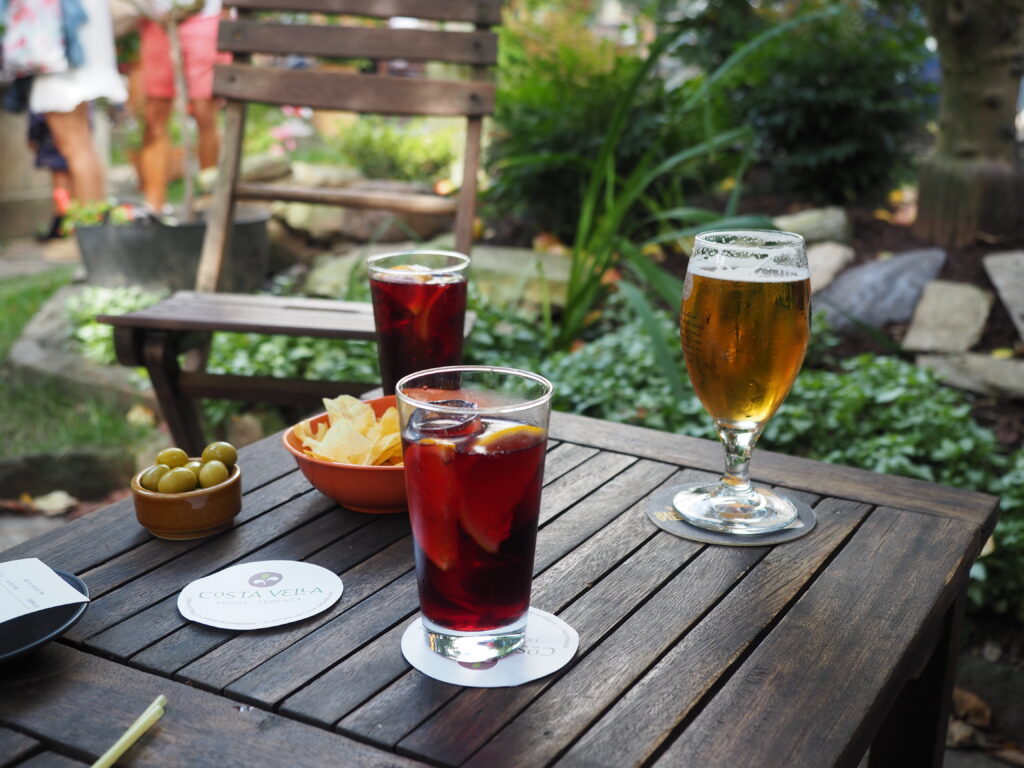 Cool and Quiet Places to Enjoy Santiago
Favorite Garden Café — Costa Vella, at Rua da Porta da Pena, 17; a serene little walled garden where you can order beverages in the shade of trees or umbrella tables. A nice destination after wandering and exploring the old town.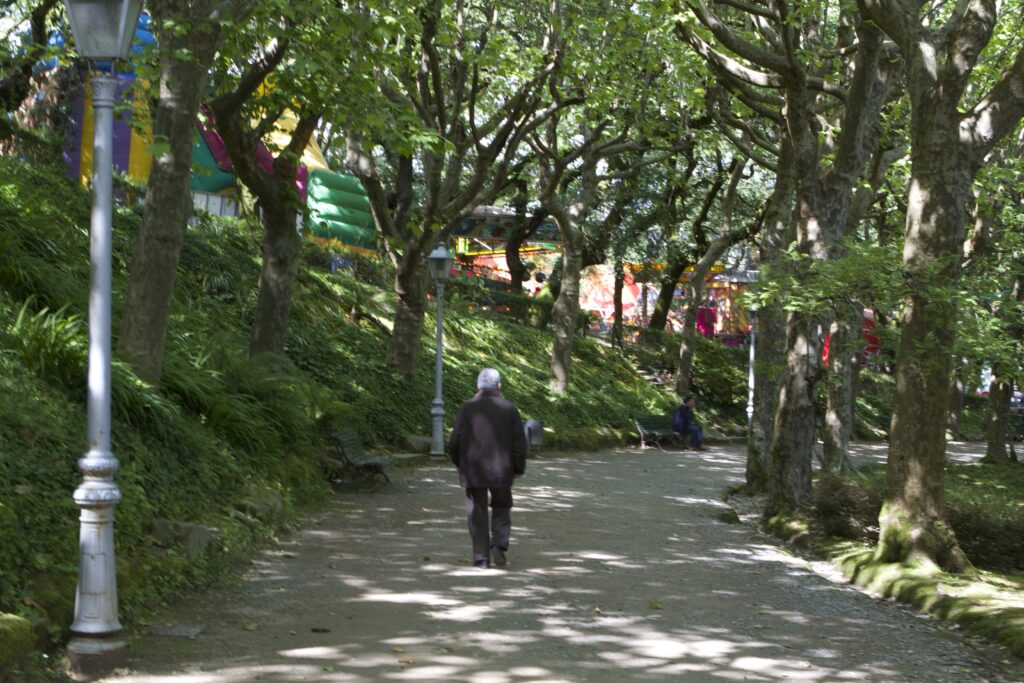 Favorite Park — Alameda, located at the western edge of the old town, is a favorite of ours. We spend time in Alameda because it is so big, shady, and hasnicely groomed trails for walking. In short, we go at least once a day to walk the trails in the park, because it is always hard for us to quit walking! We see mostly locals of all ages, and some Spanish tourists. Gorgeous views of the Cathedral and rooftops of the old town, and plenty of benches and grassy meadows where you can relax. It's a favorite way to cool off, get some exercise, and enjoy Santiago.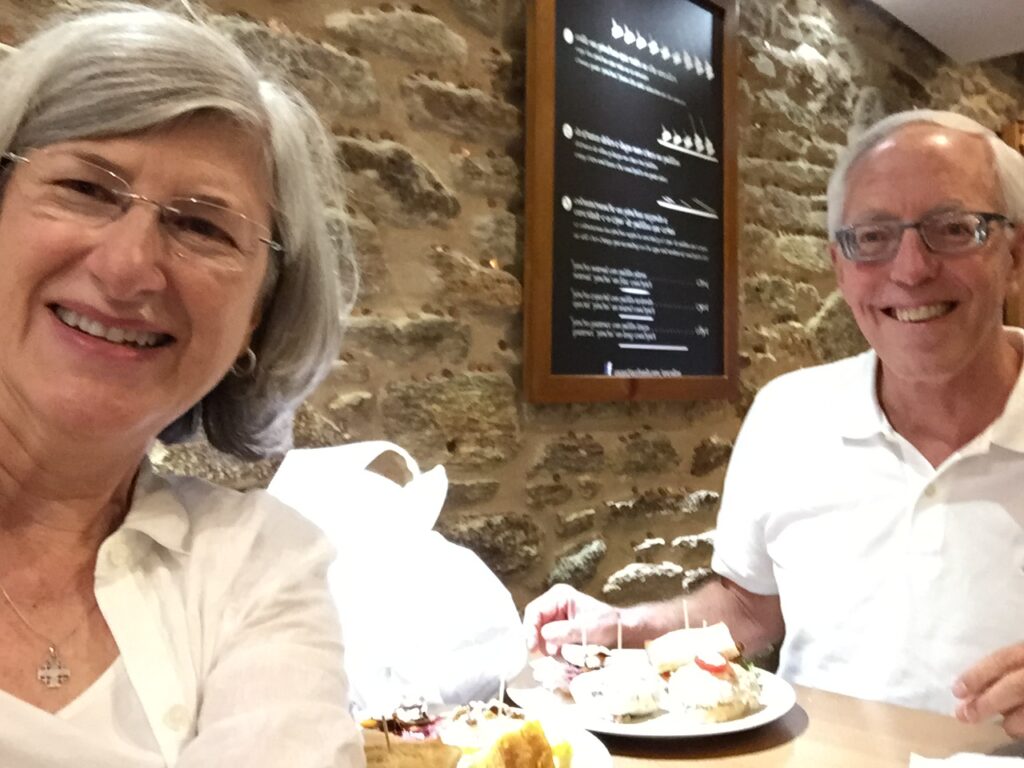 Favorite Authentic Tapas — Antollos, at Rúa das Orfas, 25; Antollo's is on FaceBook. Of course, there are many good places for tapas, we enjoy Antollo's again and again. First, it has a great location in Old Town on a quiet street. Second, it has consistently good food, self-served from a glass case at the bar. Antollo's has been reliable, affordable, and good. Third, the clientele is mostly locals and Spanish tourists. Antollo's tapas can provide a good alternative to a three-course menu.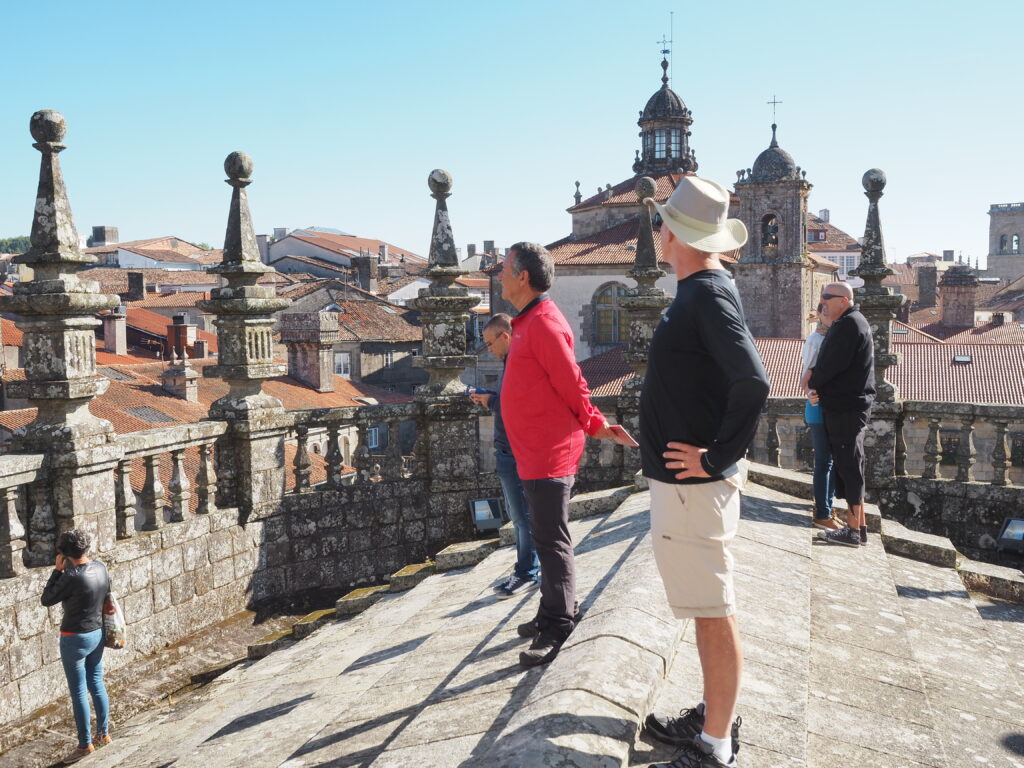 Enjoy Santiago: Favorite Activities
Favorite Tour — Cathedral Roof Tour; Get information and tickets via the entrance at Cathedral Visitor Reception Center located beneath the front of the Cathedral (the Portico de Gloria); discounts for seniors, pilgrims with credenciál, etc. Interesting with beautiful views!
Favorite Pilgrim Meet-up — Pilgrim House, at Rua Nova 19. The wonderful team of volunteers at Pilgrim House sponsor gatherings open to all pilgrims to share stories of their journeys on the Camino. A lovely way to begin to process your Camino with people who understand what you have just experienced. In addition, Pilgrim House is also a good place to arrange meetings with pilgrims you meet along the way. Leave notes on their message board for your Camino friends. not only that, the staff knows lots of ways to enjoy Santiago.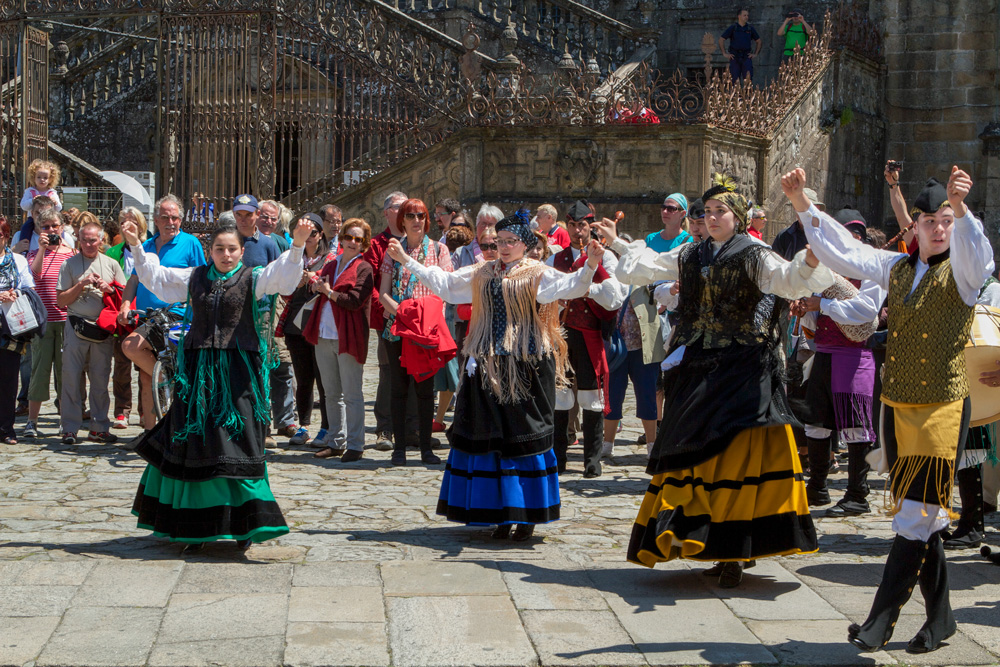 More Blogs Like This