Taking care of your feet on the Camino will help them carry you all the way to Santiago. In short, keep walking by following these 5 ideas for healthy feet.
Superfeet Green insoles add extra support
Good-fitting, moisture-wicking socks
Anti-chafing lubricants
Blister prevention
Blister treatment that keeps you walking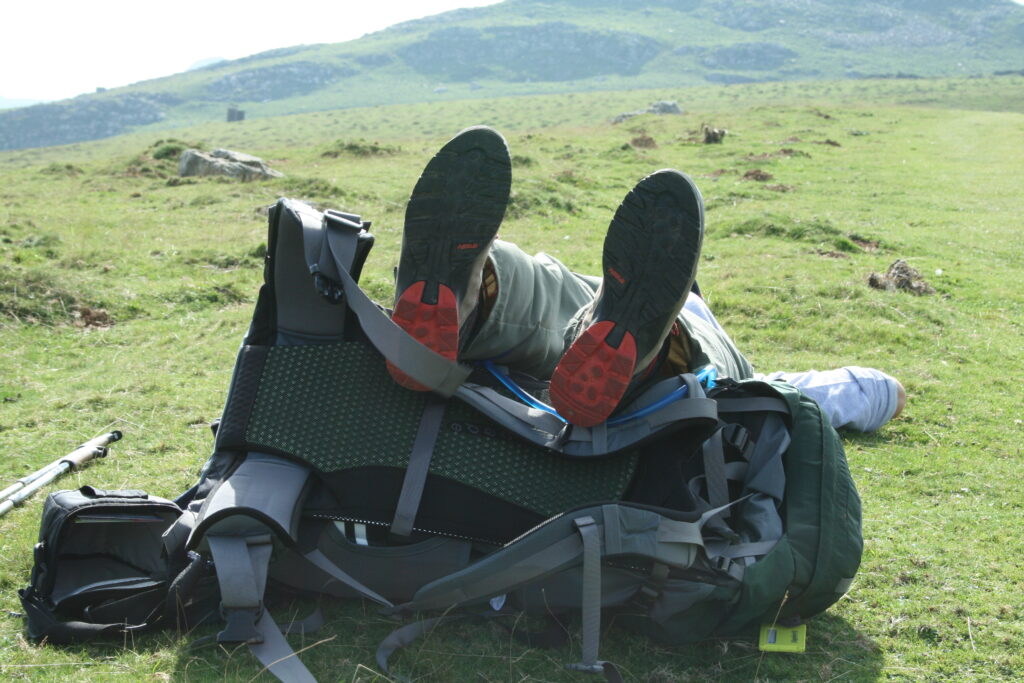 Take Care of Your Feet so You Can Go the Distance
Camino Lifers know the importance of caring for your feet healthy so you can walk the long way to Santiago. I have reviewed Camino shoes in a previous post here In this gear review I cover the other five ideas for a Camino "footwear system," as we call it. Each item is very important to your comfort and progress, thereby keeping your feet healthy and happy.
1. Insoles Provide Extra Support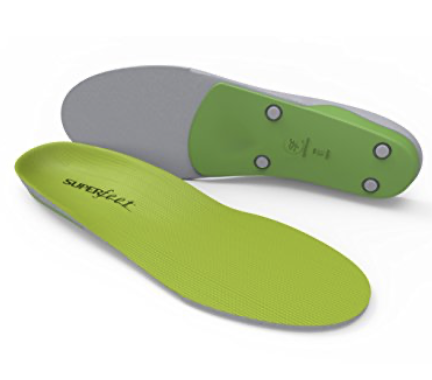 First, taking care of your feet includes a comfortable shoe or boot that offers support for the long walks you require of your feet day after day on the Camino. In addition to our favorite Merrell Moabs we add more support and comfort with a non-prescription insole called Superfeet. The Superfeet Company makes several insoles that can replace the insoles that come in your trail shoes. They come in shoe sizes and levels of support. Customize them easily with scissors to fit in your shoe perfectly. We like the green ones best for distances of up to 15 miles per day.
If you are over 40 or have chronically sore feet after long hikes, consider a visit to a reputable sports podiatrist for a consultation about ordering custom orthotics. These can be pricey, but insurance often covers the cost. Take your hiking shoes to your appointment so the doctor can assess the fit and support, and make sure the orthotic will fit well in your shoe.
2. Taking Care of Your Feet with Good Socks
Second, taking care of your feet means choosing a sock with good fit and wick-ability. In other words, you do not want to have any loose or bunching fabric that can wrinkle up and cause a friction point, or a sock that is too tight and jeopardizes good circulation. Dry feet are much less likely to produce friction, which leads to blisters. Choose a material that wicks moisture away from your skin.
Our favorite Camino socks: two for people who like a thicker sock and one for those liking thinner socks.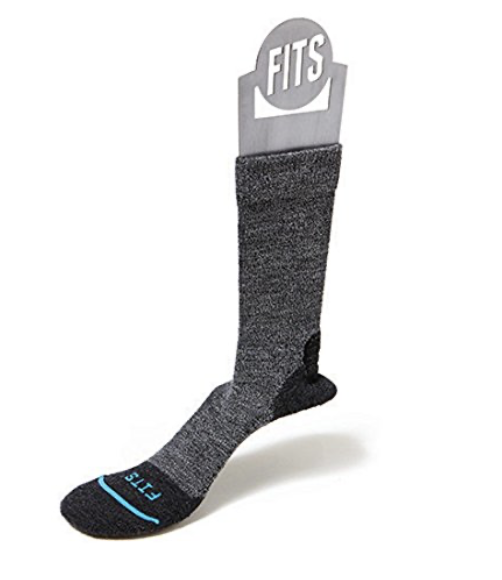 Our favorite thick sock is Fits. They come in medium or lighter weight thickness crew socks. In addition, they come in a lightweight ankle high version ("Quarter"). They are the best fitting socks we have tested!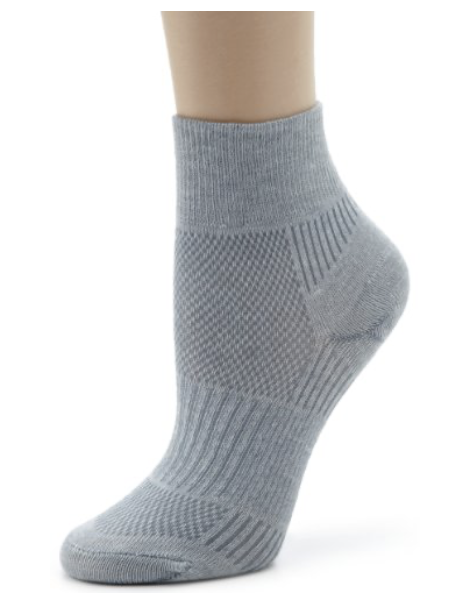 For thin sock lovers, consider the Wrightsock--great fitting, double layer, microfiber, and ankle high.
3. Anti-Chafing Lubricants Can Save Your Day
Third, taking care of your feet includes preventing chafing and blisters. We discovered our favorite blister prevention and treatment products back in 2007 before walking the Camino for the first time. Since then these products have helped countless peregrinos go blister-free, or treat their blisters and keep walking. Anti-Chafing Lubricants are part of your first line of defense against the friction that can cause blisters.
Many veterans have used petroleum jelly to prevent chafing and blisters on feet, inner thighs, inside upper arms, etc.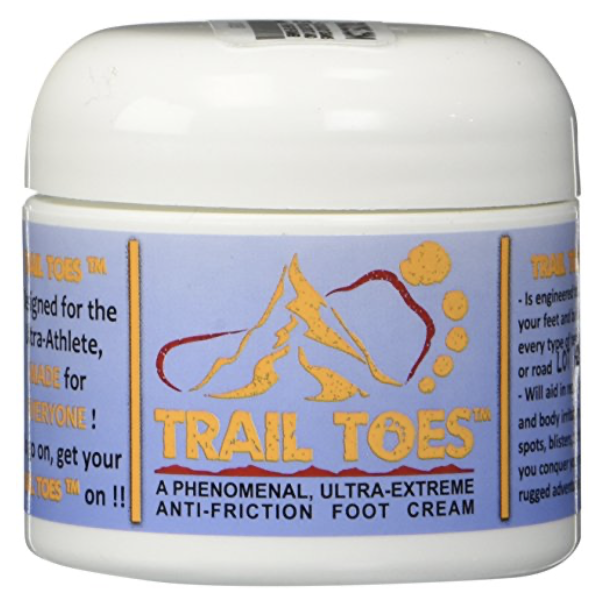 Trail Toes is a favorite of ultra marathoners, and it is now our favorite. It comes in a 2 oz. jar, which will be the right amount for a month long Camino for one person, and weighs only 3 oz.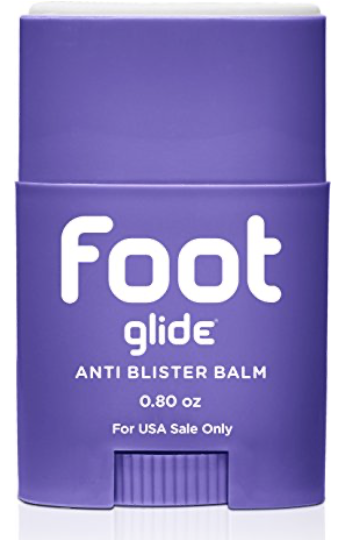 An honorable mention goes to Glide, which comes in a couple of sizes, in the form of a crank up "solid" similar to some deodorants. Therefore it is a bit easier to carry, but a bit more difficult to apply between toes.
4. Taking Care of Your Feet: Blister Prevention
Fourth, taking care of your feet starts with slowly breaking in your new Camino shoes. For example, while you are breaking in your new hiking shoes, you may notice some "hotspots." It's where part of your shoe is causing a spot on your foot to become hot and red. Think of this as a pre-blister. First, make sure this does not indicate a shoe that does not fit. It might be that you are a tenderfoot, just beginning to train. Or, you might have overdone it.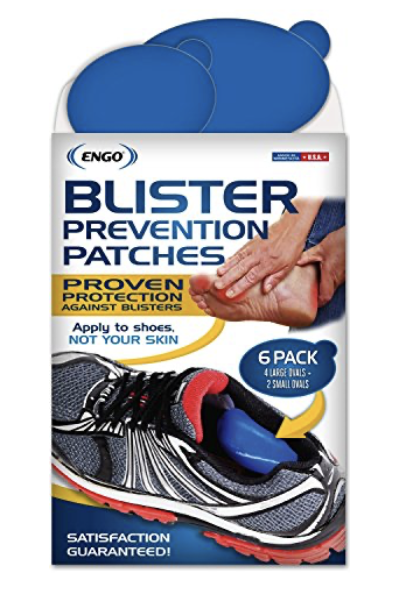 Consider preventing further friction with a product called Engo Blister Prevention Patches. These adhesive-backed teflon patches attach to the parts of your shoes that are causing hotspots. As a result, they stop the friction to allow the hotspot on your foot to heal rather than progress to a blister. We use these back home even with new street shoes.
5. Treat Blisters and Keep Walking: Here's How
Fifth, taking care of your feet means acting immediately and wisely if you do get blisters. For example, we have had great success treating them with Spenco "2nd Skin Gel Squares." We have tried all the remedies and bandages on the market, even the European ones promoted everywhere. Gel Squares are still our favorite. If you are walking the Camino solo, get one or two of the Blister Kits, which are about $10 each. The kits contain some gel squares and knit adhesive tape to treat inflamed skin and blisters.
However, you might prefer to invest in the following two items in bulk. It's true, that it's probably more than one person will need. If you are walking with friends, share the cost of these two Spenco products to divide among you: a jar of 200 Gel Squares and a box or two of Adhesive Knit Sports tape. Here's how it works: The squares are made of moist gel you put directly on your clean, damaged skin and hold in place with a piece of the adhesive knit tape placed over the gel pad. These bring immediate relief to your damaged skin. In addition, they provide a comfortable buffer allowing you to keep walking without doing more damage. This stuff is amazing!!! I cannot recommend these products highly enough.
Tell Us Your Favorite Ways of Keeping Feet Healthy
In conclusion, I don't know about you, but since walking the Camino for that first time and becoming a "Camino Lifer" I am always listening for what favorite gear other Camino pilgrims recommend. We are a wonderfully diverse group and spread all over the world. Moreover, our favorite gear in the USA might not be available in the UK, Australia, Europe, or other places in the world. So as we review gear we hope you will add your favorites to the Comments below.
Take good care of your feet on the Camino, so you can enjoy the walk of a lifetime!